WELCOME
We, the people of St. Boniface Parish are a culturally diverse and inclusive Roman Catholic community deeply rooted in the Franciscan Tradition, who seek a place of beauty, hope and refuge. An Oasis in the Tenderloin
In our worship and in our ministries, we are committed to proclaim the liberating message and to practice the values of the Gospel of Jesus Christ, with a preferential option to serve the economically poor and marginalized of our community and to promote peace, faith, justice, reconciliation and the integrity of creation among all of our brothers and sisters.
CONTACT AND TIMES INFO
133 Golden Gate Ave
San Francisco, CA 94102
415-863-7515
425-863-7602 (fax)
415-601-8701 (EMERGENCIES ONLY)
MASS SCHEDULE
WEEKDAYS: 7:30AM, 12:15PM
SATURDAYS: 8:00AM
SUNDAYS: 7:30AM ENGLISH
(TAGALOG 2ND SUNDAY)
9:00AM ENGLISH (GOSPEL MASS)
10:30AM SPANISH
12:15AM ENGLISH
2:30PM VIETAMESE
CONFESSION: SATURDAYS 8:30 - 9AM OR BY APPOINTMENT
---
---
All Community Mass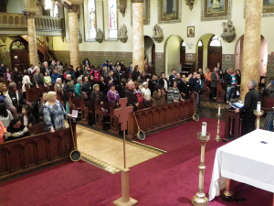 Multicultrual Mass at 10:00. This is a Multilanguage Mass we share on special occations. Call and ask about our next Multicultural Mass.

---